Why I bought it and how I'm going to use it
I recently purchased an iPad Pro.
I'm writing this post on it.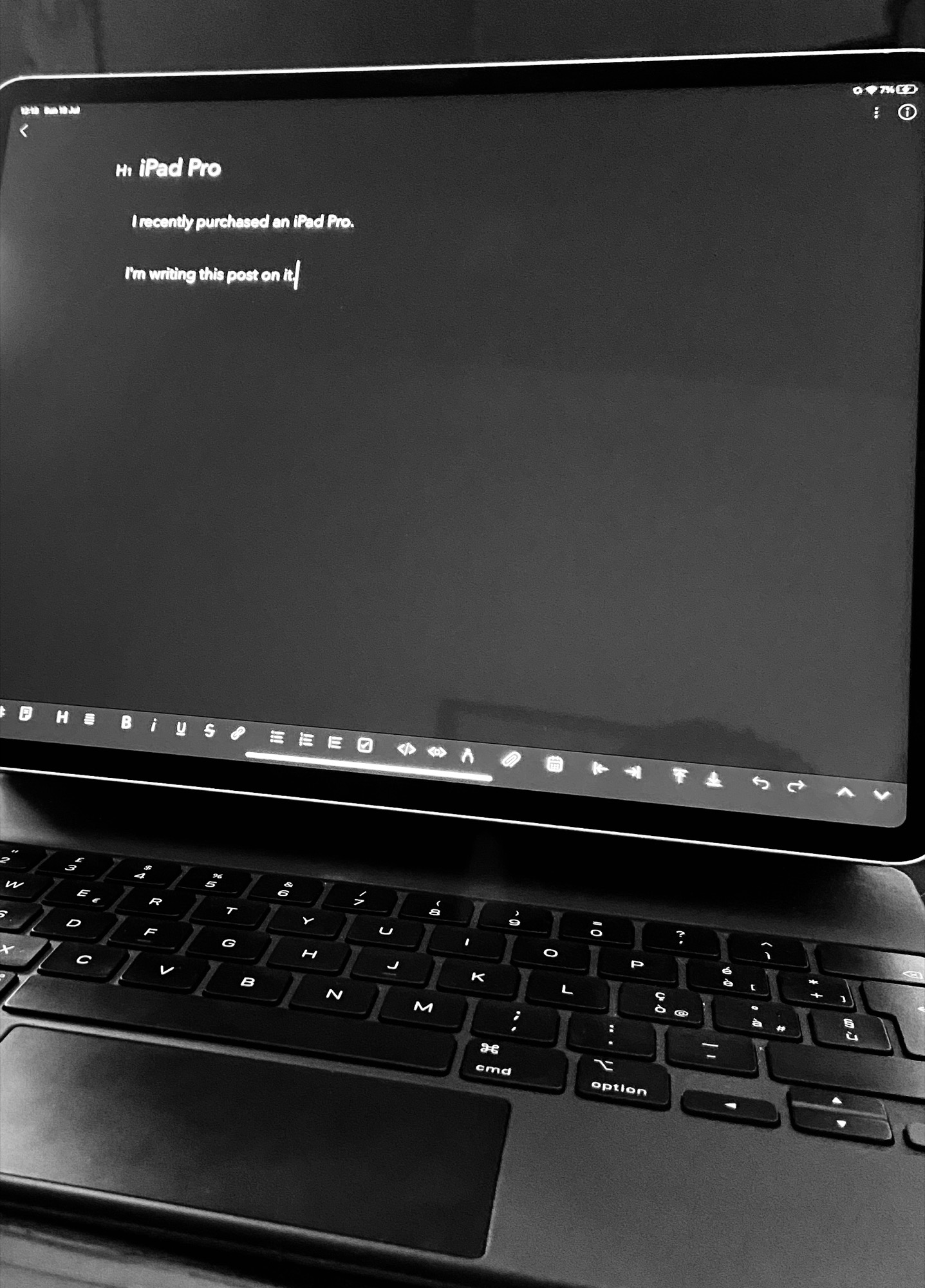 It's a 2021 12.9" 512GB Cellular iPad Pro, with Magic Keyboard. After 2 weeks of daily use I can easily say it's wonderful.
I had 2 iPads in the past. The iPad 2, and the 2019 iPad which came with the Apple Pencil. Both with a 9.7" screen.
This last iPad is still in service. It is great device to use along with the Apple TV and to keep on the sofa.
But this iPad Pro is a different beast, for many reasons.
One of the reasons I bought the iPad Pro is to be a device I can work from, all day long. My current main computer is a MacBook Pro 16" which is great for desktop use, along with external screen, keyboard and mouse, but it has 3 problems when I want to take it on the go with me.
First problem: it gets hot. In 2019 I bought a 13" MacBook Air because my old 13" 2010 MacBook Pro was getting too hot and I thought it was the hardware. I was right, the MBA was a-m-a-z-i-n-g. But then I started making videos and the MBA was not enough. I'm sure the new M1 MBA can handle that, but in the meantime in early 2020 I got the 16" MacBook Pro. And for some reason it just gets hot and if you're not in an air-conditioned environment with 21°C, after a while you can't type any more on it, because the computer is under the keyboard. It's annoying.
Second problem: the battery lasts very little. The MBA had a much better battery. On the 16" MBP I might get 2 hours if I don't do anything fancy (no video processing, etc).
Third problem: it is heavy. It's 2kg.
The iPad Pro is 685 grams. The keyboard is heavier, it's 710 grams. Combined, we have 1.4kg but here's the thing: you don't need to carry the keyboard around all the time.
If you use the iPad for reading or watching videos or watching the maps, the keyboard is just a stand.
And when I'm taking it in a trip I can take the iPad with me in the backpack and leave the keyboard in the car or the van. A thief might rob the iPad but not a keyboard, I hope. And the keyboard does not contain data, and I can use the iPad without it.
That said, the keyboard is great. Especially because … there's no computer underneath. So it does not get hot. And thanks to this it's so thin that you don't even get wrist pain because you're not keeping your hand "up" like on a MBP.
I'm writing half of the blog posts on the iPad now. Especially the ones where I don't have to write code.
Speaking of code, I've been trying to find a solution to code on the go, without a MacBook, and I think I got a few interesting ones but I haven't identified the best yet.
I'll write a separate post when I do.
The thing I use the most the iPad Pro for, at the moment, is a rather unexpected one. At least for me. I didn't expect that.
I like to read on the iPad Pro. I say unexpected because I never enjoyed reading on the iPad. But in 2 weeks I already finished several Kindle books.
It's probably due to its bigger screen, its much better screen, and the layout with 2 columns I can get on the Kindle app.
I also enjoy using it a lot with Sidecar, so it works as a second screen for the MacBook Pro.
Another thing I use it a lot now is to watch YouTube and Prime Video, something I already anticipated I would.
And I will do that much more when I'll go on a road trip with my van because the iPad Pro will be the main TV. I can download from YouTube and Prime Video so I don't consume any mobile data, which is still essential because in the EU while I got a 70GB plan on my SIM, in Italy, the roaming only allows 8GB, then I have to pay 2.99€ every week for 5GB.
I know from experience that watching videos and maps on the go can consume a lot, even 10 or 15GB per day if you're not careful.
Speaking of data, this model of iPad Pro I have is cellular. I can add a SIM to it. I never had a cellular iPad, so it's kind of new to me. And I haven't digged too much into it at the moment.
This might be a good option when going abroad and getting a local SIM.
But the reason I got the cellular version in the first place is that it has a GPS. Wifi models don't have GPS integrated, and one of the things I plan to use the iPad Pro a lot is navigation.
When I'm around with my van I usually have the iPhone showing the directions on Apple Maps. But sometimes I want to look at what's around and to do this I have to stop the navigation and then set it up again.
Inspired by the Tesla display I made a little iPad Pro car mount for the van: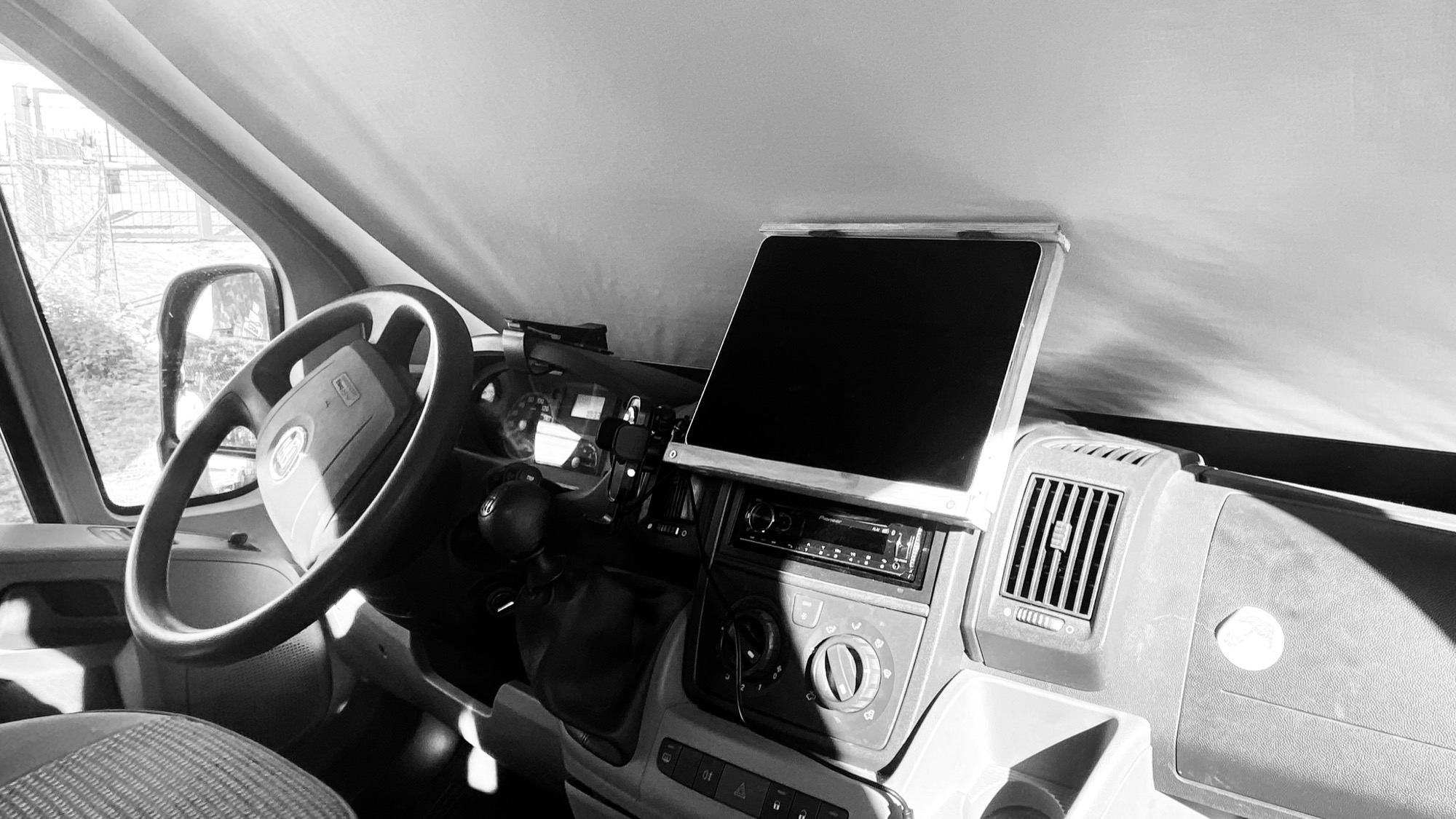 I built it with some basic woodworking, and I still have to test it in a real trip.
The goal is to use it in this position for 5 things:
Navigation using offline maps, using the wonderful mapy.cz app
Using Google Maps / Apple Maps
Using park4night, the best app to find parking spots in Europe
Using it as a music player and music visualizer (I like Staella at the moment), It connected to the car sound system via bluetooth
As a video player, when parked
So this will be the main use case for the GPS: helping with finding interesting places, parking lots, shops, hidden gems not visible from the road, when going around.
As a TV on the go, its place will be where there's the bed, I already tested it and it works great.
Then when it's time to work, I just connect it to the Magic Keyboard and I can start doing things, typing, drawing ideas, and so on.
The main apps I use when I'm in "creator mode" are
I use the same apps on the Mac and they synchronize automatically via the cloud, so I can jump from one device to another effortlessly.
I'm excited by the possibility to use the iPad to create iOS apps directly, but this will only come with iOS 15 and I'm not going to install the beta now, so I'll wait.
That's it for this review of the iPad Pro, or for how I'm going to use it.