I want to start a little series of posts on living the van life as a developer!
What is the van life, and what does it have to do with this blog?
Van life essentially means living in a vehicle. The reason I talk about this here is that it's part of what I like doing. I can work from anywhere, so I can also work from a van. And it's perfectly doable.
There are many, many different kinds of van life. I have my own idea of the perfect van life. You will have your own.
Some people live out of a van full time. I do not. I do not live in my vehicle 365 days a year. I just use it for short and long trips. A long weekend, an entire week, or many weeks in a row. It does not matter, it's always fun. But the longer the trip, the best it is. My best trips, the ones I have the best memories from, are usually 1 month long.
In this series of posts I will discuss my experience with living and working as a developer on a van.
Speaking of vehicle, the thing that dramatically changes your experience of vanlife is the vehicle you choose.
I've seen it all. From cars, to minivans, to Volkswagen vans, with or without pop top roof, to bigger vans, to motorhomes, small or very big, to 4x4 expedition vehicles.
I am in the middle tier. I own a 5.4m (17.7ft) Fiat Ducato van. It's known in the US as RAM ProMaster. Other brands commercialize it too, like Citroën Jumper. It's the same thing, more or less.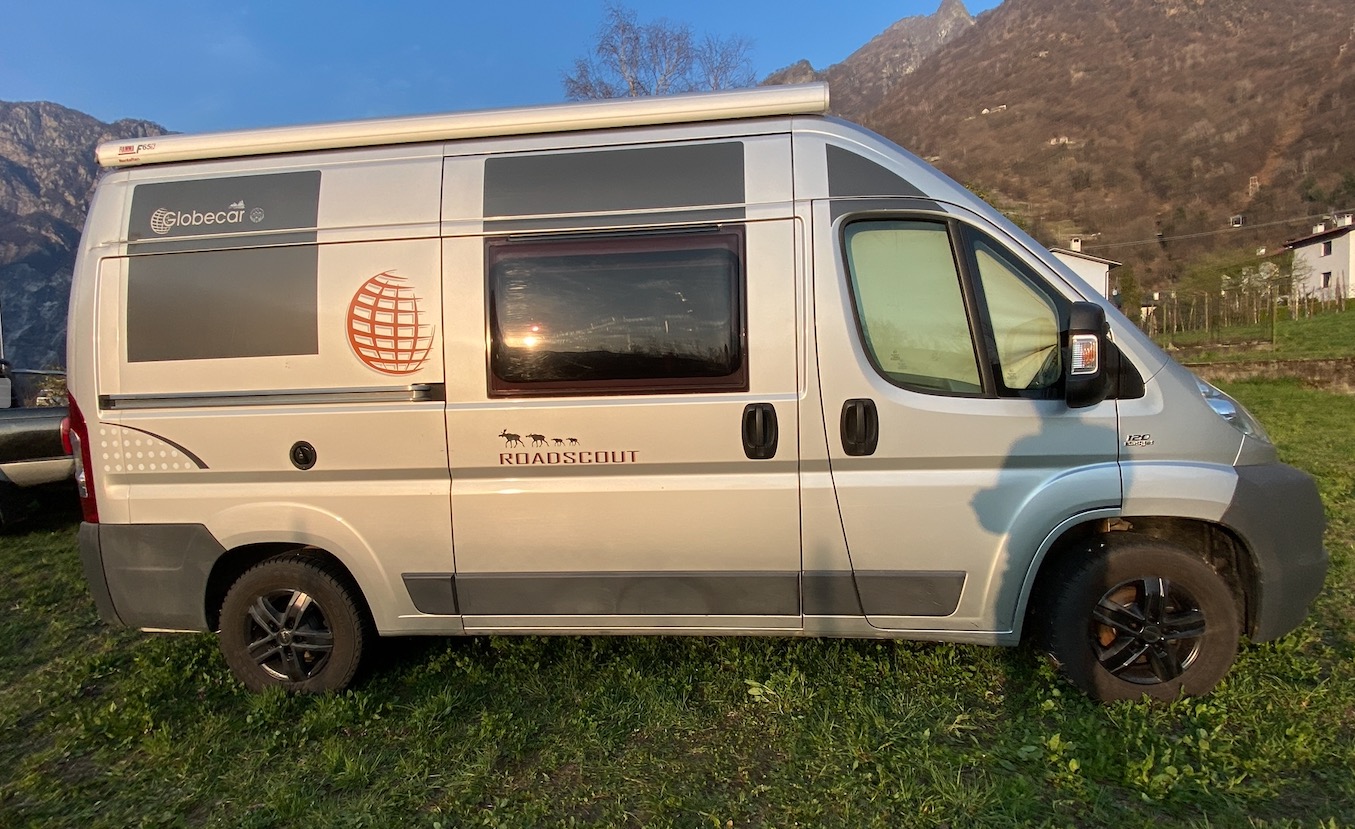 It's a solid choice, and the perfect size for me. I can park it anywhere, it's just slightly longer than a SUV car. It's quite tall. I can stand in it easily.
Speaking of utilities it has a toilet, gas stove, water system, exhaust water tank. It as a table, a bed, heating. Plenty of storage. And of course electricity.
I will describe all of those things in detail later.
I didn't build it myself, it was outfitted by a German company. I bought it second-hand 7 years ago, it was 4 years old. It was a great deal, I think. Almost new, just 32.000km, but much less expensive than a new one. It wasn't my first "house on wheels".
I am not new to this world. Before that, I had a 1984 Ford Transit based motorhome that was awesome and provided me 30+ years of service. Granted, I didn't drive it at first because I got it when I was just 4 years old, but later on I ended up driving it through Europe.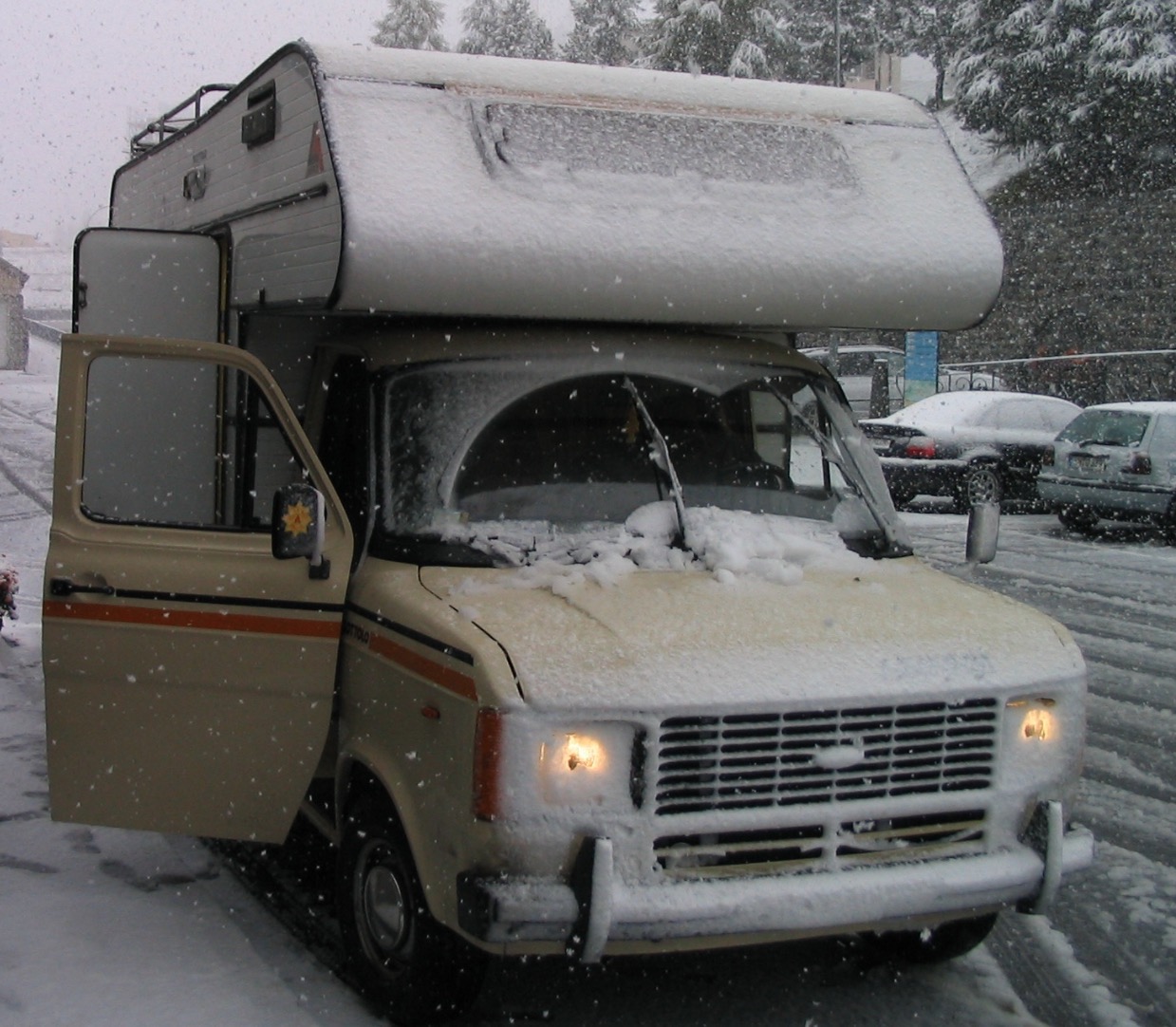 But.. back to the van.
During those 7 years since I bough it, I went on many long trips. Spring, Summer, Fall, and Winter. I (almost) never take vacations in the traditional "forget about it all" sense. I think work is an integral part of life. There's no work/life separation in my concept of life. No work/life balance. Just times when work is the predominant activity, and times when work is not. I love my work and I don't dream of spending 3 weeks on a beach sipping margaritas. I'd much rather work 2 hours during those 3 weeks, and enjoy the rest of the day.
Most of this is because I'm not an employee. I work as an independent creator, so I always take my Mac with me and I work from the van.
I'll tell you how later on. This is important, because if you plan to not work when you travel, then it's a vacation. And a vacation means you need to "wrap up" your work before taking it. You will forget many things during the vacation, and it might take a week or two to get back to speed with your work when you get back.
But I'm an independent software developer and now also full-time teacher educator and "content creator" aka blogger.
Tip: you can also do that while working as an employee. What it matters is that you can reach the expected results, and you have flexibility around the hours you work. Generally, you need to "win" this flexibility with your employer. I did that in the past by setting clear boundaries first and I always had flexible days and hours while I worked as a contractor for other companies. And most importantly I always worked in project-oriented gigs rather than "I will work 8 hours a day".
I do not want to plan when I take those van trips. Some people book their vacations months in advance. They book the August ferry to the fancy mediterranean island in January. But they are different. They know their vacations go from Aug 01 to Aug 31 (for example). So they must plan in advance, as lots of other people will take vacations in the same period and there might not be space for them on the boat.
I hate this. Van life for me is first and foremost freedom. I just want to roam free, decide on a whim to go and not plan anything except having a rough idea of where I want to go. The rest comes with the trip.
If the forecast says 10 days of rain heading north, I turn the wheels to south. If I planned to go on a snow trip but there's not enough show where I had in mind, or it just snowed 1m of fresh snow and I can't do the sport I like, then I go somewhere else.
Maybe you had dreams about a place but when you get there, you hate it. You can always move to another place.
In the times we're living, it's also the most secure way to travel. It's just you, you have your own bathroom, you cook your own food, you can self-isolate and avoid close contact with other people very easily.
Van life, or better life on the road with a vehicle, is not for everyone, of course. But if it's for you, or you think it might be for you, read on.
I have some other posts about this: